In our previous guide, we created a Bootable Windows USB with Win32 Disk Imager. But in this guide, we are going to show you how to do the exact thing but with a different software called Rufus. Rufus is an open-source bootable USB drive creator software that allows you to prepare a bootable USB drive within just seconds. To prepare our bootable flash drive from Windows 10 ISO we will use the portable version of Rufus. Of course, nothing stops you to use other software, such as the well-known to all WinSetupFromUSB, but in the guide, I will depend solely on Rufus.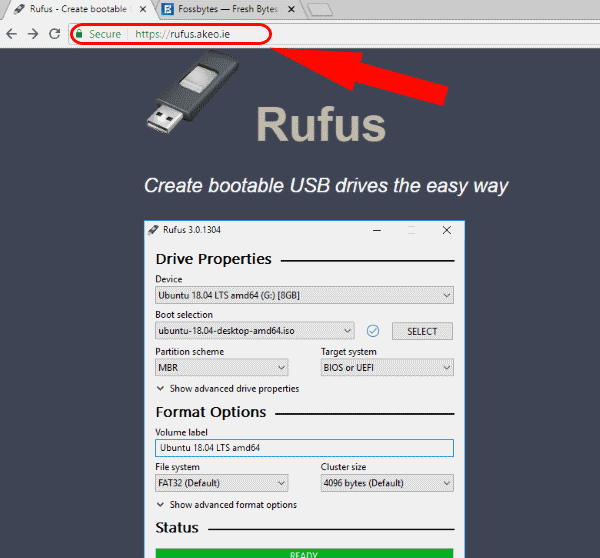 Before getting started, make sure that you have a USB drive with at least 8 GB of capacity. If you have important data on the drive, then it is wise to backup them because in this process your data on the USB drive will get deleted. Then, you can download the Rufus application from their official website.
To create a bootable USB flash drive, please follow the steps below.
As I mentioned earlier, connect a USB stick with a minimum size of 8GB to any USB port and then run the Rufus program. Before proceeding, make sure that your USB does not contain important data, because when you create a bootable USB drive, the USB drive will be completely formatted and you won't be able to recover the data easily.
After opening the Rufus, Rufus will automatically detect the USB drive. If you have any other USB devices plugged into the system, it is best to remove them to avoid any complications. Because sometimes you might mistake the correct USB port.
Now when the Rufus is loaded and detected your USB drive, click on "Browse" to give the correct path of your ISO file to the software. Once you select the ISO, the other options will be automatically changed to the requirements of the image file. Additional functions will also appear.
Now, all you have to do is configure the application as in the preferred settings below:
Partitioning Scheme: MBR for BIOS or UEFI-CSM
File System: NTFS
Allocation: 4096 bytes (Default)
New Volume Name: At discretion, e.g. WINDOWS10
Search for bad sectors on the device: If you have a corrupted drive, you can select this but this is not required and not recommended as it slows down the process.
Quick Format: Selected
After configuring all options, simply click on "Start". After a few minutes, your bootable USB 10 stick will be ready. What makes Rufus better than Win32 Disk Imager is its burning speed. You can also burn an ISO file from Windows 10 to DVD. To burn the ISO image to disk you can use the Win32 Disk Imager. The whole procedure is very simple, you insert the DVD into the drive, run the Win32 Disk Imager. I will cover this part completely in our next guide.